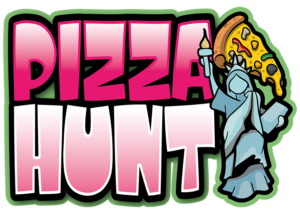 Those terrible tomatoes have invaded the pizzas in New York. They have set up their base in the pizza slices and recruited a few of their fiendish friends. Don't let them escape. Your mission is to help the kids find them, eat them to defeat them and let out our victory cheer…
This slice is mine!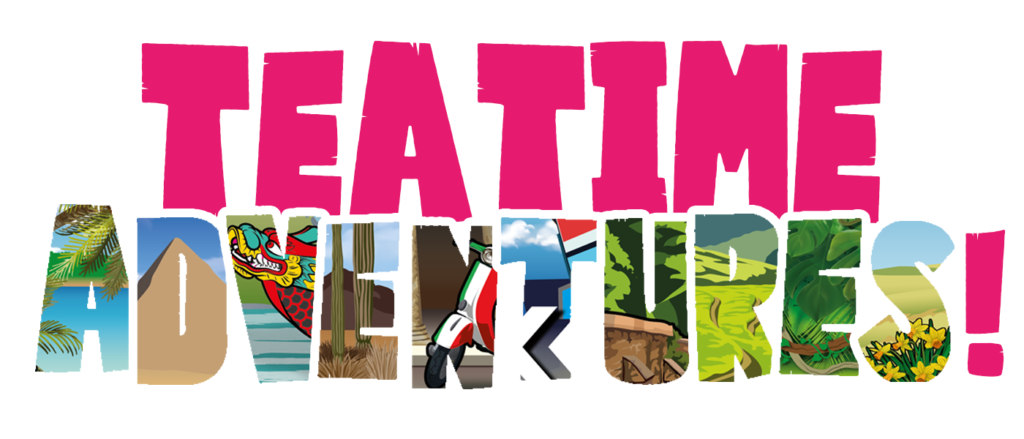 Tea-time adventures turn a meal into a game you play together. It's about finding the fun in the food because that encourages children to eat it. It's not so much about the recipe which puts the food on the plate (that's up to you), but the fun which gets the food from the plate into their bellies.

Kids love pizza! Pizza Hunt is a fun way to get a few vegetables on those pizza slices. You can make your own pizza, we have suggested a recipe below, buy a plain one and add vegetables or buy a vegetable pizza. Keep the vegetables chunky – if you present chunky veg your child feels in control. This is important – they can eat the veg when they choose, they can separate it out and not eat it, or they can play the game and "eat them to defeat them". If they have that control they will be more inclined to give it a go. Diced little vegetables all over the pizza will make many children feel cornered.
To get started, tell your kids that as part of Eat Them to Defeat Them you have a challenge called Pizza Hunt and ask if they would like to watch the video. Watch the video above together and repeat the rally cry, "this slice is mine" ,with as much enthusiasm as you can muster. Then ask the children if they want to help Chef Andrew to defeat the veggies.
Before you serve your pizza you might want to watch the video again. As you serve, repeat the rally cry catchphrase, "this slice is mine", and then when you or your kids eat the vegetables you can say things like "you're going down veggies" or "let's defeat them". During the meal avoid any pressure and keep the mood fun.
Once the meal is over, praise, praise, praise – but don't mention health. "Well done, we defeated the veggies". Remember, for veg-resistant children a sniff, a lick or a nibble is good progress – praise it. Then add a sticker to your Eat Them to Defeat Them wall chart, if you don't have one you can download one here. Ask the kids if they enjoyed the challenge, and would they like to try another. Good luck.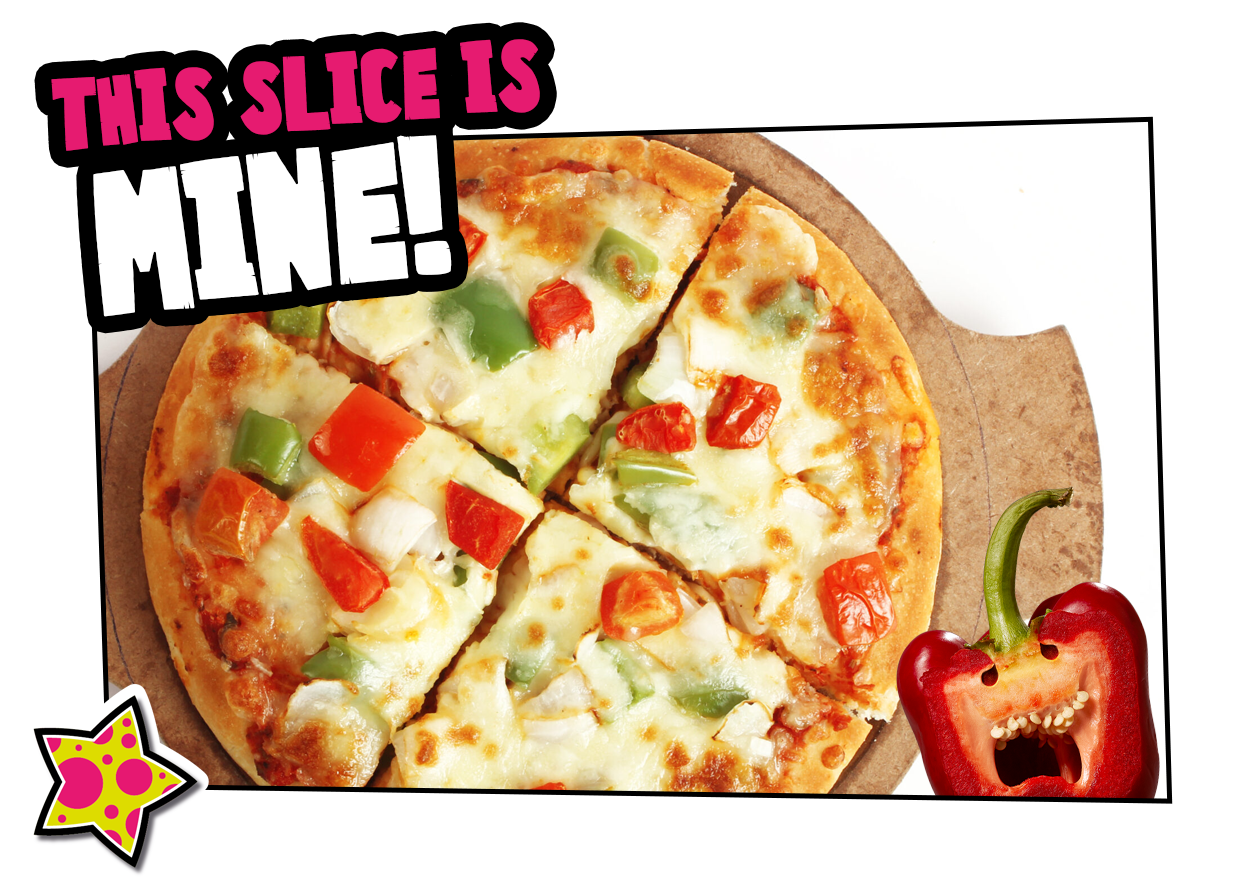 Pizza
Serves: 4
Prep time: 15 mins
Cook time: 30 mins
Ingredients:
Base:
200g pizza base mix (plus extra for dusting)
1 courgette or carrot, grated
125ml tepid water
Basic topping:
8 heaped tbsp tomato pizza sauce or passata
50g cheddar cheese or plant-based alternative, grated
Veg topping suggestions (offer kids a few options of chunky veg and try to put at least two on the pizza, along with some of their favourite other toppings if you like):
Sliced tomatoes
Sliced red onion
Sliced courgettes or aubergines (chargrilled frozen ones are perfect for this)
Sliced peppers (frozen is fine)
Sliced mushrooms (fresh or frozen)
Butternut squash chunks (fresh or frozen)
Sweetcorn (tinned or frozen)
Veg Portions / Serving: 1
A pizza slice with plenty of vegetables. We have suggested a super tasty and healthy version with a veg stuffed pizza crust and chunky veg topping, but you can use any pizza slice as long as it has a vegetable topping. The secret will be to keep it fairly chunky so the kids can find it, and to serve with a reminder to the children to Eat Them to Defeat Them and say "This slice is mine!"
Method:
Preheat your oven to gas 8/450°F/220°C. In a suitable bowl, add the pizza base mix, grated courgette or carrot and tepid water, using your hands to bring all of the ingredients together to form a dough.
Sprinkle a work surface with a little extra of the base mix or plain flour, and continue to knead the dough (just fold it in on itself and push down hard on it over and over) for about five minutes until the dough has a smooth outer texture.
Roll the dough into a roundish thin shape and place onto an oiled baking sheet. Evenly spread the tomato pizza sauce on the pizza base, add the sliced vegetables to the top making sure that they are evenly spaced, and top with the grated cheese or plant-based alternative.
Place the pizza into the preheated oven and continue to cook until golden brown and well risen, about 5-10 mins. Remove from the oven, then portion and serve.
Kids in the Kitchen:
Have the kids help you measure and weigh ingredients, make the dough, pick some veg toppings from options you can give them, and top the pizzas – they can really own this recipe! For more tips on cooking with kids check out Kids in the Kitchen on Simply Veg.